What is 5asideCHESS
"Connecting People - Know Yourself Through Others"
How it works
Instead of 2 you only have 1 Bishop, Knight & Castle playing alongside your King & Queen.

This greatly speeds up the game, makes it fun, and ideal to play anywhere.
Easy to learn
Rules are exactly the same so if you know the game you're good to go – and if you don't it is easy to learn.
Where Can I Play?
We want everyone to play chess in their local cafe, bar and waiting areas…

You can donate a set to help us achieve this and become a ChesStar on our Chess Wall of Fame map!
Spread the Word
Please share your favorite 5asideCHESS games and photos with us on Instagram.
About
We love chess so much ...
...we want everyone to share the love but we need to make it easier to get into
If you play the game already you know all about the amazing benefits and fun you can have – so we want You to help us drag the Game of Kings invented in India in 5 hundred and something out of the old world chess club and into the openness of the 21st century street café.

Donate a set to your local café
5asideCHESS map to find your nearest board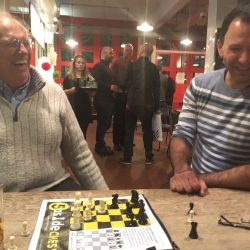 The 5asideChess team has been hard at work in Bristol this month, figuring out the best way we can help the local community. In our search for 10 venues to host our 'connection' days, we came across the incredible team working over at the Atrium Cafe, on the UWE Frenchay Campus. Later in the week,[…]
Previous
Next
Buy a 5asideChess set
Make your move — Help us get chess out there
Limited Editions - only 1000 are made of each design
Every board-bag is a limited edition artwork.
Contains pieces, traditional and 5asideCHESS.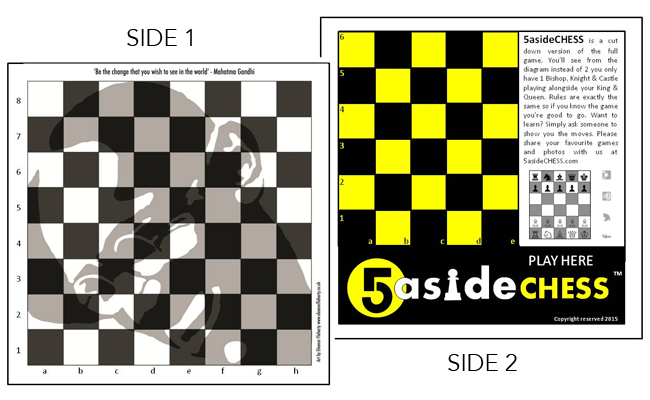 Enjoy playing with your friends
Get a 1st Edition 5-a-side chess set including board-bag and 32 pieces
Put yourself on our 5asideChess Wall of Fame?
Get a 1st Edition 5-a-side chess set including board-bag and 32 pieces, and your name on the Chess Wall of Fame map by generously donating your set to a public space of your choice